At BIG we now use Swing Catalyst video analysis software to analyse our students swings and make recommendations. Using 2 high speed camera's we can capture High Definition images of the player face on and down-the-line and show the player what we are trying to achieve.
By integrating our launch monitors we are able to measure the benefit of correcting a player swing fault by using real data.
If you are interested in a full swing catalyst analysis then BOOK HERE.
Launch Monitor – Flighscope x3
Flightscope has been the leader in launch monitor technology for almost 20 years. At the BIG academy we use the Flightscope flagship X3 launch monitor that provides us with ALL the students club and ball data allowing us too make informed decisions about a players swing.

Using a blend of radar and camera technology the X3 is the market leader in radar based launch monitors and provides unique features that allow us to simulate weather conditions to prepare players for tournament play.

PERSONAL LAUNCH MONITOR FLIGHTSCOPE MEVO +
We also have a "baby" X3 called MEVO +. MEVO + is the most powerful personal launch monitor available on the market and is fully portable to use in every coaching scenario. With MEVO + we can help student understand their club and ball data for chipping and putting also. Taking MEVO + onto the course or onto the practice area make our coaching more interactive with the student, allowing them to see their progress and set themselves challenges that accelerates their learning. 

When we combine the players ball and club characteristics with the video analysis we can easily determine the optimal approach to improve a students swing to help them get more club head speed, hit the ball further and sweeter.
If you are interested in taking an X3 or MEVO + lesson then BOOK HERE.
If you want to improve your game quickly then putting is the place to start. Start holding 10' putts and your up-and-down metrics improve and you make more birdies.
Whilst its important that we keep the concept of putting as simple as possible, its often difficult to understand what a player is doing with his putting stroke from the swing path, face control and strike just by looking. As BIG we use CAPTO's putting analysers to see what would otherwise he hidden in the putting stroke. CAPTO also allows us to score the players putting ability and set them challenges to meet particular metrics that will then show improvement on the course.
CAPTO gives us a view of a players address position and allows us to tweet visually and using the CAPTO data and most students get good immediate results from correcting their posture, face contact and pendulum motion.
By setting targets we can also understand a player green reading ability and how they react to different slopes on greens.
If you are interested in a putting analysis lesson with CAPTO then BOOK HERE.
Wrist control in your golf swing is critical to controlling the face of the club at impact. At BIG we use a technology  HACK MOTION to understand and teach optimal wrist control.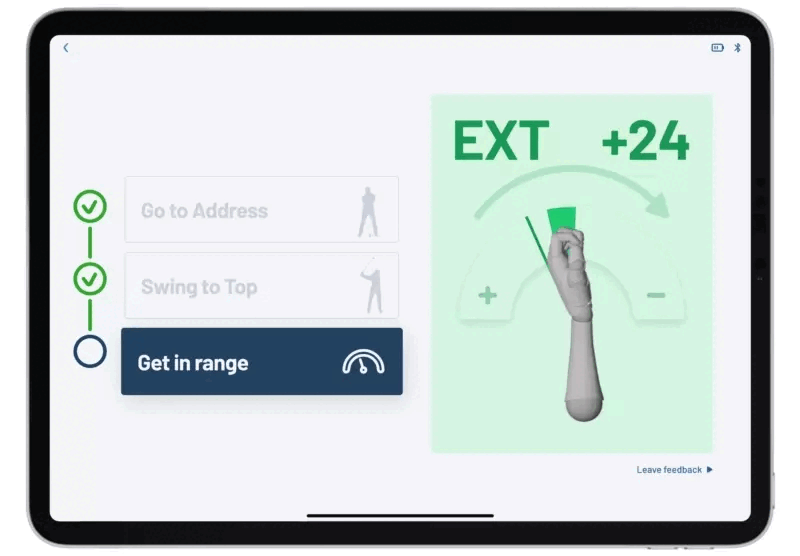 We work with students to control the variance between your wrist angles at address vs your wrist angles at impact. This in turn develops consistency in your golf swing and in your putting stroke.
Hack Motion gives us the option to set acceptable levels of variance from address using physical and audible prompts. Players seem to develop a lot quicker when they can see visual results of the drills we are teachning and hack motion is a great tool for that.
If you are interested in having a HANCK MOTION lesson and understand your consistency score then BOOK HERE.
At BIG we believe that to play your best golf it is beneficial to incorporate a fitness program into you practice. Most amateur golfers, what ever age, are carrying a physical limitation of some sort and as we get older these limitation become more and more pronounced. 
At BIG we run Titleist Performance Institute physical screening protocols to assess a players ability to move and its impact on the swing. We call this the Body Swing connection. If you are struggling to bend down and tie your laces or to lift anything above your head due to an old injury we can identify the impact on your swing, build a plan to alleviate the limitation as well as adapting your swing to compensate.
Using the TPI library of fitness exercises for ALL Swing types we can provide an on-line scheduled plan for you to follow to improve your Gol and general fitness and make your golf more enjoyable and more importantly more competitive.